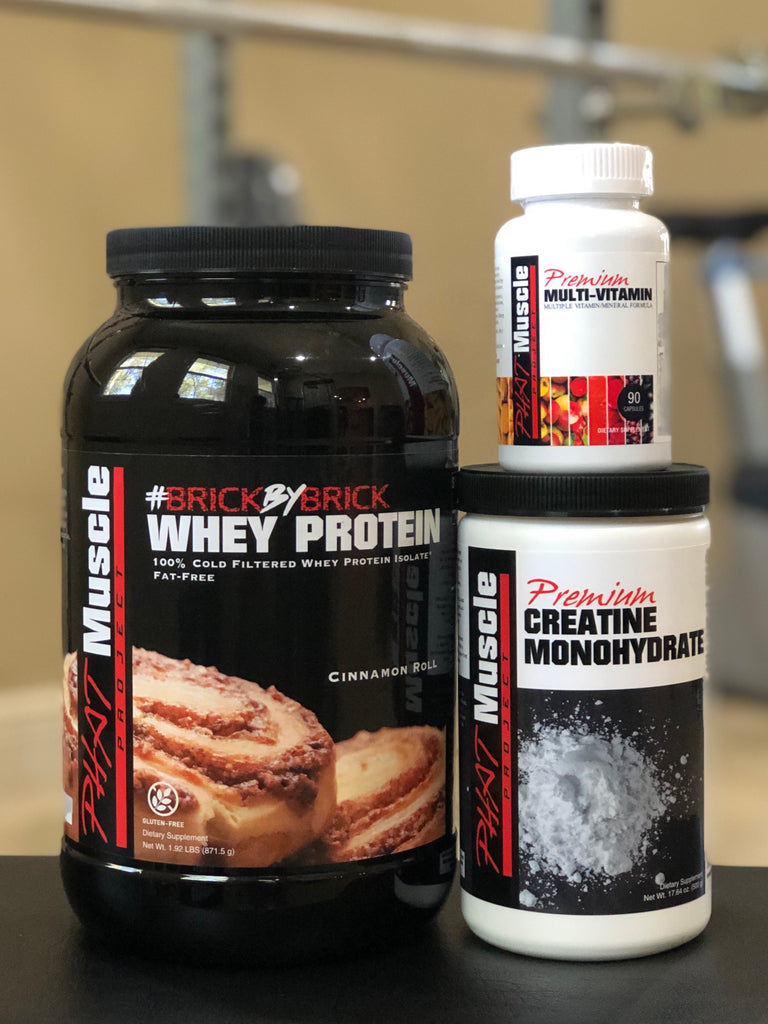 Essentials Stack - $10 Savings
Details
The Essentials Stack
Whether you are new to working out or a well-seasoned veteran, this stack is for you. We put together our top 3 supplements for what we believe to be the ultimate combo for overall fitness/health/performance. This stack includes; #BrickByBrick Whey Isolate, Premium Multi-Vitamin, and the Premium Creatine Monohydrate.
100% Fat Free Cold Filtered Whey Isolate
#BrickByBrick Whey Protein was named exactly that for a reason- it helps build muscle brick by brick and layer by layer.  Protein is the absolute number one thing our bodies need to recovery from workouts and build muscle.  #BrickByBrick Whey is a great tasting protein that maximizes lean body mass and promotes fat loss while preventing post-training muscle soreness and breakdown. It is an easily digested, fat free low-carb source of 25 grams of pure whey protein isolate that comes from the same Wisconsin dairy farms so the taste and quality is the exact same for every single bottle. The blend contains amino acids, all 9 essential amino acids, concentrated levels of BCAAs. 
 
Research suggests that #BrickByBrick Whey Protein may help support:


Muscle growth and recovery
Fat loss and weight management
Faster muscle repair and return to strength after training
Healthy immune function
Ingredients : Whey Protein Isolate, Natural and Artificial Flavor, Xanthan Gum Powder, Sucralose, Salt, Clean Cream & Acesulfame Potassium.
Allergen Warning: Contains milk and soy.  Manufactured on equipment that may also produce products containing ingredients egg, wheat, peanut, tree nut, fish, and shellfish ingredients.
 
Recommendations : Men- Mix 1.5-2 scoops in 6-8 oz of water.  Women- Mix 1 scoop in 4-6 oz of water, as a dietary supplement, or as directed by your healthcare practitioner.
 
Caution: If pregnant, nursing, or taking medication, consult your healthcare practitioner before use. Keep out of reach of children.
 
Multiple Vitamin/Mineral Formula
At Phat Muscle Project we are all striving to build our best physiques, and taking a high quality multi-vitamin is crucial to help our bodies fight free radicals, stay healthy, and recover so we can return to the gym to keep making progress.  Set at a very affordable price with extremely high quality. 
Premium Multi-Vitamin is a high potency multiple vitamin/mineral formula, and should be used in all maintenance schedules. It provides 100% or more RDA of 13 vitamins and minerals plus a host of amino acids and enzymes.
Premium Multi-Vitamin may support:
Healthy immune system support
Fights free radicals
Supports cognitive function and mood
Provides antioxidants to help support oxidative stress
Support vibrant, healthy skin
Support energy and vitality
Support healthy gastrointestinal function 
Help you meet daily vitamin and mineral needs 
Recommendations: Take 3 capsules daily as a dietary supplement, or as directed by your healthcare practitioner.
Premium Creatine Monohydrate
Creatine monohydrate is one of the most researched supplements in the world that yields impressive results. Creatine has been shown to improve strength, explosiveness, muscle growth, increased energy, improved cognitive function, and cellular swelling by pulling water and nutrients into the muscle cells. Creatine is safe for men and women and does not need to be loaded or cycled.*

Suggested use: For performance consume 5 g (1 teaspoon) before, during, or after a workout in your favorite drink. For cognitive function and/or days off from training consume 5 g at any time of the day.
Storage: Keep in a cool dry place. 
Caution: Do not exceed the recommend dose. Do not use this product if you are pregnant, nursing, or taking any prescription medication, consult your healthcare practitioner before use. Do not use this product if you are under the age of 18. 
Keep out of reach of children
Produced in a GMP facility